Geplaatst op 08-10-2023 - Categorie: Algemeen
On behalf of the NVTG, our chairman Hanneke Dekker signed as a participant of the Global Health Hub Netherlands.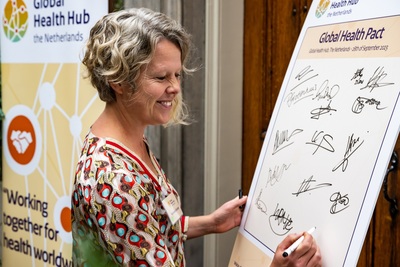 Minister of Health Ernst Kuipers and Director General of International Cooperation Pascalle Grotenhuis of the Ministry of Foreign Affairs opened the launch with inspiring talks, stating the urgency 'to work towards a globally robust and fairer ecosystem for public health. The challenges we face are comprehensive, and we must address them in every possible way. Collaboration is crucial, not only among countries but also among government departments and various sectors. We need the expertise of knowledge institutions and non-governmental organizations, as well as both public and private partners." Also Director-General, Pascalle Grotenhuis, emphasized, that the Global Health Hub us there 'to identify the most pressing needs, bring together knowledge, engagement, and financial support, mobilize communities to advocate for their health rights, strengthen healthcare systems, and meet the needs of the most vulnerable, including women, children, and LGBTIQ+ individuals."
More than 120 people participated in the launch, of which over 25 dedicated partners came together to sign the Global Health Pact and establish the Global Health Hub Netherlands.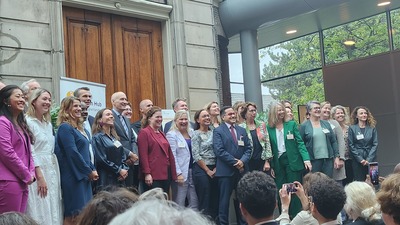 For more information about the Global Health Hub Netherlands see the website.